(Canadian construX)
This is my list of my favorite 10 Wrestlers of all time. These choices are not made on who I think is the best at wrestling. promos or for how their career went. This is based on characters that I enjoyed for all they offered in the ring and as entertainers. Note, I will try not to go all Canadian with my choices
10. Rowdy Roddy Piper.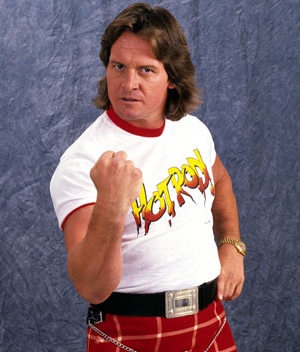 A man who could talk trash as good as anyone. The man who could chew bubblegum and kick ass. "Hot Rod" was the man who got me into "heel" wrestlers. His matches with Bret Hart for the Intercontinental title are some of my favorite matches ever. As far as microphone skills, I don't think there are many who could keep up with this guy. Even still when this man makes appearances he can not only cut a mean promo, but is also capable of making any current feud more exciting on one of his classic "Pipers Pit" segments.
My favorite Piper moment.
9. Raven
When I was younger I thought Raven was the coolest dude ever. His hardcore matches, his promos, his "Ravens Flock" days. Amazing. No matter what promotion he was a part of, I was always excited seeing Raven. Most of my dress attire came from trying to be this man growing up. I even tried growing my hair like him. I was a huge fan of his promos, though they might of been cheesy I didn't care. Anytime I see a wrestler sit in the corner of the ring I feel they are a rip off of this guy.
My favorite Raven moment
8. Brian Pillman
For the most part, I think my appreciation for Pillman is similar to Ravens. This man was one of my favorite on the microphone. Being a part of some of the greatest wrestling stables like the Four Horsemen and The Hart Foundation. Pillman was CRAZY. He was an under rated wrestler and one of my favorite talkers ever. I had little doubt that this man was crazy and there are not many guys in the business who made me believe their character. Brian Pillman was one of them. And lets not forget the home invasion with "Stone Cold" Steve Austin, which was one of the most insane moments in the history of Monday Night Raw
My favorite Pillman moment
7. "Macho Man" Randy Savage
I don't think there are many wrestlers who were as well rounded as "The Macho King" His matches were amazing. I feel he is one of the most colorful entertainers ever. Though confusing, I don't think anyone has ever showed the same energy as Savage. He was even fantastic on commentary. I cant think of anyone who was as well rounded as this man. Though he is only number 7 on this list, I feel he had one of the most exciting careers in the business. Maybe not so much his rap album, but it was better than Hulk Hogans!
My favorite Savage match. (This is just highlights. If you're a wrestling fan that hasn't watched this match, find it now)
6. Ric Flair
Is there a more impressive wrestling career? This man has done everything. Fantastic at all aspects of what I think a great wrestler should possess. He is a pimp. His wrestling is some of the most technical wrestling I have ever watched. His charisma is above anything I have ever seen. Still, I will jokingly give my friends a Flair chop and give a loud "Wooooo" This man will go down as one of the greatest wrestlers of all time, if not the greatest.
My favorite Flair moment. Not his greatest match but what an amazing moment so late in his career.
5. Jake "The Snake" Roberts
The most terrifying man ever. Fantastic promos, fantastic matches and a great character. This mans feud with the Undertaker in my opinion was one of the most exciting ones I remember. Growing up I was blown away by the exchanges between the two. I feel Jake is one of the most under appreciated wrestlers ever. When I was young Jake scared the shit out of me, not to mention he was a part of one of my craziest moments ever in wrestling, which follows this.
Favorite Jake moment.
4. Mr. Perfect
Can you get better than perfect? Its not possible. Amazing technical wrestler. In my opinion, his promos are the most memorable ever. They were fantastic, cheesy and made you only love this man more. Also the "Perfect Plex" is one of my favorite moves ever. What an amazing character and possible the most cocky wrestlers of all time. Very well rounded, Mr Perfect was Perfect
Favorite Mr. Perfect moments were his Sports vignettes
3. Chris Jericho.
Back in his WCW days I thought Chris was the greatest ever. As great as his matches were, I feel in his prime he was one of the best talkers ever. Very energetic, cocky and vocal about it. I was very excited when I learned he was leaving WCW for WWE. He has always put on great matches, and though his changes of character haven't always been for the best I respect his wanting to add depth after every comeback. One of wrestling's best of all time in my opinion.
Favorite Jericho moment
2. Owen Hart
When I was a kid I loved Owen Hart. I thought he was the funniest wrestler ever. His matches were amazing. I loved him in the Hart Foundation stable. He still is my favorite wrestler as far as his matches go. Especially his work with his brother Bret Hart and the British Bulldog. I was lucky enough to meet Owen a few times and he was the nicest guy. I remember the first time I met him he signed a wrestling action figure I purchased of him that night in Toronto. One of the best all around wrestlers inside and outside of the ring
Favorite Owen match (my favorite match ever, there are 3 parts)
1. The Undertaker
I think explaining this would require an entire blog. I feel Undertaker is the best ever. His matches, his character, his promo. Everything. Ever since I first saw him, he was my favorite. And him winning his first title off Hulk Hogan only made me more sure of this. His Wrestlemania streak of 20-0, the Ministry of Darkness. All of it. In my opinion, The Undertaker is the greatest in wrestling's history.
Favorite Undertaker moment